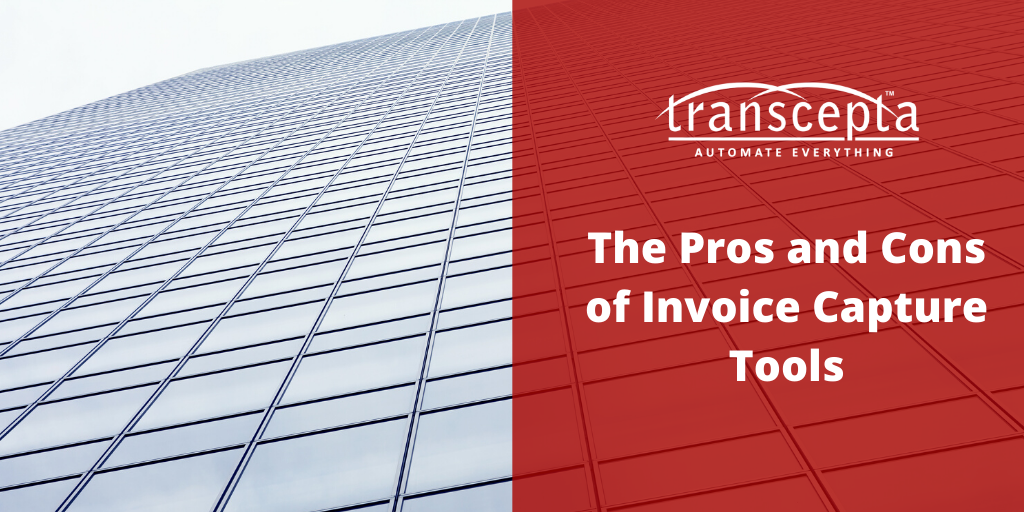 There are some common reasons accounts payable (AP) departments look to employ invoice capture tools. Typically they are looking for increased efficiency, and reduced costs, and faster invoice cycle times.
We will look at the three main approaches to invoice capture, which are:
Optical Character Recognition (OCR) and Scanning
Outsourcing Invoice Capture
True Electronic Invoicing

Optical Character Recognition (OCR) and Scanning
PROs
This software typically requires a capital investment, but it can be less than other approaches.
You do not need to coordinate any changes with your suppliers.
You do not need to give control to another party, like with outsourcing invoice processing.
CONs
ROI can be minimal as staff reduction is minimal.
OCR does not remove the paper from the process, and even the best OCR solutions have an error rate.
You need to train a team to validate the errors and exceptions that are inherent with OCR.
Invoice cycle time improvements are minimal.
OCR do not allow for validation of the transaction ahead of receiving it.
OCR does not allow for enforcing corrections on behalf of the supplier. The AP department has to step in and resolve all errors that come in on an invoice.
No matter how good the OCR software is, there is always going to be an error rate that will require the AP department to investigate and resolve.
SUMMARY
If you are a company that is receiving a low number of invoices, say fewer than 10,000 annually, then scanning and OCR may be a good fit due to the low capital investment.
Outsource Invoice Capture
PROs
Outsourcing has a third-party dealing with invoice data entry. It removes the manual efforts from AP departments to key or scan invoices.
CONs
Outsource capture does not allow for straight-through processing. If a supplier sends an invoice to your third-party provider, you're going to get whatever that third party provider received. There is no chance for validation of the transaction (matching an invoice to a PO number etc.).
There is no opportunity with this process to deploy the sophistication of an electronic network process.
There is no invoice cycle time improvement. Sometimes cycle time increases.
The process adds complexity when resolving issues with suppliers.
Usually, there are no money savings with this option.
SUMMARY

Outsourcing fits companies who prefer outsourcing philosophically or for those companies that have a lot of one-time suppliers, the latter referring to those companies that don't plan to do much in the way of supplier management. It would be a good option for those companies who, for the foreseeable future, are going to have a lot of suppliers that do business with them once and then never again.

True Electronic Invoicing
PROs
True e-Invoicing solutions enable invoices sent through with errors to be sent back to the supplier with a request for fix and resend, automatically.
True electronic invoicing is the only solution that's going to get you a viable path to straight-through processing and provides the most substantial ROI.
E-Invoicing eliminates paper and allows businesses to "Go Green" with their invoicing process.
Because the solution is electronic and invoices are going from the supplier electronically through the provider and into the AP system, the cycle time that it takes to process an invoice goes from days or weeks to minutes and hours.
Electronic invoicing improves cash flow management and visibility.
True e-Invoicing improves supplier relationships as suppliers have more visibility into the process.
E-Invoicing process provides a gateway to automate the entire Procure-to-Pay Process.
CONs
This system will require some staff support upon implementation.
Electronic invoicing may require internal change management, but typically, this can be a catalyst for moving to best practices across AP and Procurement.
SUMMARY

True Electronic Invoicing, or e-Invoicing, hits a lot of the goals that customers have with wanting to improve the invoice capture process. If you are looking for the highest benefits across the board and want to set your AP department up to have a truly efficient process, e-Invoicing is really the best option available.
Learn more about true e-invoicing in our white paper.
Related Posts