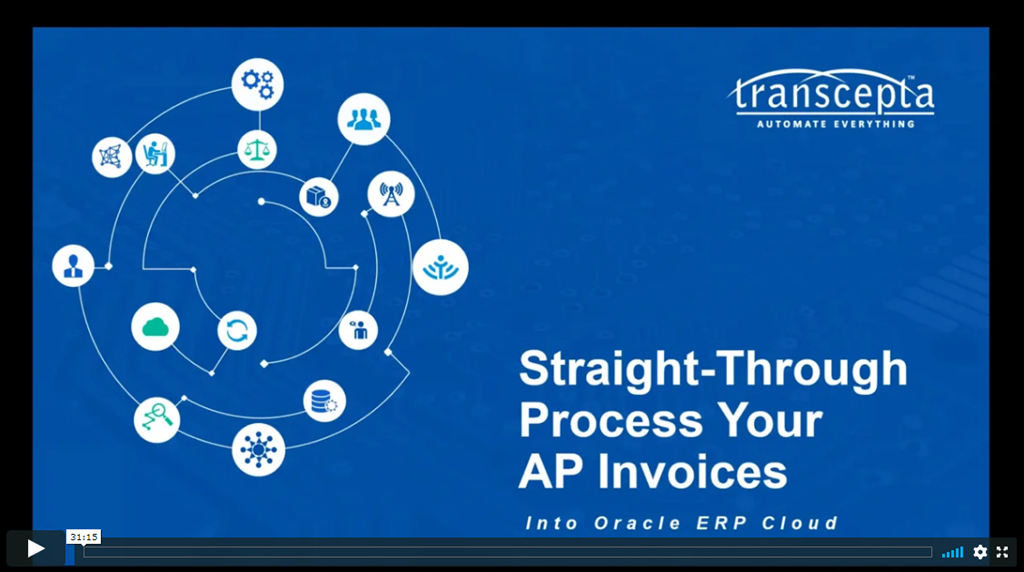 If you are committed to transforming your AP department, watch our recorded webinar and learn exactly how you can achieve straight-through AP Invoice processing with Oracle ERP Cloud.
IN OUR VIDEO LEARN:
What is straight-through AP invoice processing? And why should you care?
How is Oracle Integrated Imaging different from e-invoicing?
What steps can you take today to achieve straight-through AP invoice processing?
Watch and learn how to get the AP Automation you and your team deserve!
Some introductory highlights from the webinar hosted by Shan Haq, VP Corporate Strategy and Development for Transcepta:
"We want to talk about what straight-through AP invoicing is, so that we're all aligned, and we all have a similar context as we go through this presentation. Pretty simply, it's getting an invoice from your supplier into your AP system, ready to pay without AP having to intervene in the process in a manual way. There's a whole bunch of things that come with that in terms of what you need to do to achieve it, and there's a whole bunch of benefits as we'll talk in depth about if you are able to achieve straight-through processing. But, probably what you can see immediately is that straight-through processing is going to be a fast cycle time. You're going to be able to be much more efficient than if you're touching invoices, whether they're paper or electronic. And, there's going to be a number of benefits for you.
Now, you might be thinking, 'Is straight-through processing even possible? That sounds like a lofty goal. I'm going to get an invoice from my supplier, and it's going to get into my system in accounts payable, and I'm not even going to have to intervene.' It actually is possible. But, there's a few things that need to happen in order to get there.
First
The first thing is not anything to do with technology, it's really business process, and something that your organization controls. Some organizations are relatively mature with their procurement departments, and their ability to get a high percentage of their invoice volume as PO-based invoices. Those are the organizations that are going to have the most success with straight-through processing. Certainly, you can improve the efficiency around non-PO invoicing. There's a number of things you can do, including just simply moving to an electronic invoicing process, and away from paper based processes. But, ultimately the nature of a non-PO invoice is that it needs to be touched via approval, and it needs to be coded. What we really want to do if we want to get to true straight-through processing in regards to AP invoicing, is use purchase orders.
Second
The second thing is, you need the systems and the technology to be able to kind of get you where you want to be. We're going to talk about the front end, around connecting suppliers electronically. And, we're going to talk about the necessary technology to head off AP exceptions before they occur. But, it is a combination of process and technology that enables you to achieve the straight-through processing goal.
You need AP, you need Procurement, and you need IT to work together. It's a coordinated effort within your organization, and those pillars really all need to kind of be there in order to get the highest straight-through processing rates possible."
Shan goes on to explain exactly how any organization can achieve straight-through AP invoice processing with Oracle ERP Cloud. Watch now!
Related Posts