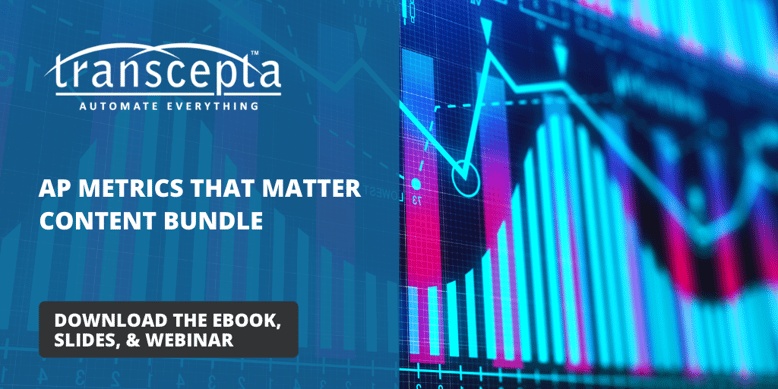 Transcepta has an incredible bundle available for accounts payable professionals looking to completely automate their AP invoice processing. Industry experts discuss the latest tools and trends in our recorded webinar, with recording, slides and the actual AP Metrics That Matter in 2020 ebook provided.
The "AP Metrics That Matter in 2020" Content bundle includes:
eBook - AP Metrics That Matter - 2020 Update

Webinar Recording

Webinar Slides.
Some background: our bundle project began with Ardent Partners' latest release of their AP Metrics That Matter in 2020 Report. Ardent is a trusted industry leader in setting benchmarks and offering valuable business intelligence into accounts payable. This year's report gives insights into how best-in-class AP teams are leveraging data capture and automation to speed up all phases in the receipt, approval, and payment processes that improve efficiencies, limit invoice exceptions, and lower costs.
A revealing highlight in Ardent's report: this is the first year in their decade-long research into the AP industry they found more businesses processing invoices digitally than manually, with 50% moving on from manual paper-based processes. Due to the increase of digital processing, other significant successes reported are that the average cost of processing a single invoice went down 13% and that B2B electronic payments increased to 55%.
Learn more by downloading our bundle which includes a PDF copy of Ardent's 2020 report and a webinar recording in which our VP of Corporate Strategy and Development, Shan Haq, and Ardent's VP Marketing & Research Director, Bob Cohen, discuss the report and offer guidance on how to apply the metrics to improve AP operations. The bundle also includes a copy of the webinar presentation slide deck.
In the bundle you will learn about:
Data-Driven Tactics and Strategies (Operational & Executive)

Straight-Through Invoice Processing (Only 24% of Businesses Achieve This)

Increased PO to Invoice Connection Capabilities

The Need to Develop Intelligent Analytics

Challenges Facing Manual and Digital AP Processors

Current Best-in-Class AP Industry Benchmarks

And more!


Don't miss out on our bundle offering free industry analysis and AP automation improvement strategies! Download the bundle below.
Related Articles