The FinTech Influencer Series recently featured Transcepta's Shan Haq to discuss the changing landscape of ePayables, with end-to-end digital processes predicted in the next five years.

Shan, Transcepta's VP of Corporate Strategy & Development, talks about how companies need to prepare for completely digital accounts payable processes as AI and machine learning technologies are revolutionizing operations and connecting supply chains like never before. Shan says efficiencies through AP automation are making true straight-through AP invoice processing a reality. To read the full interview, click here.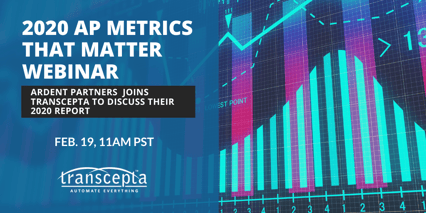 And do not miss out on our upcoming webinar on AP industry trends and forecasts. We will be joined by Ardent Partners to discuss their 2020 AP Metrics That Matter Report, which is their annual investigation into the state of Procure-to-Pay and ePayables.
Ardent Partner's has been setting AP industry benchmarks for over a decade. Their value in providing advice on best practices, technology trends, and challenges facing AP professionals is unparalleled.
You do not want to miss this revealing webinar on the latest accounts payable trends in technology and processes.
Sign up below.