Ardent Partners has just released the 2020 edition of AP Metrics That Matter, eBook, which is a compilation of the industry's best and most widely used accounts payable benchmarks.
You can download the report here.
A revealing highlight in Ardent's report is that this is the first year in their decade-long research into the AP industry that they found more businesses processing invoices digitally than manually, with 50.3% moving on from manual paper-based processes. Due to the increase of digital processing, other significant successes reported are that the average cost of processing a single invoice went down 13% and that B2B electronic payments increased to 55%.
The report shows that significant challenges remain, however, with only 24% of business processing straight-through invoices, just 50.3% automatically linking invoices to POs, and a limited 40% having no spend management despite the "goldmine of data" being available to capture and evaluate through technology and automation.
This year's report also gives insights into how best-in-class AP teams are leveraging data capture and automation to speed up all phases in the receipt, approval, and payment processes that improve efficiencies, limit invoice exceptions, and lower costs.
Ardent shows how organizations that take a data-driven approach to analyze cash flow, gain powerful visibility across their supply chain, from purchase to payment. Ardent says that businesses need to focus on core processes and use ePayable solutions, as this results in 6x lower costs per invoices to process.

In the report, Ardent looks at:
Data-Driven Tactics and Strategies (Operational & Executive)
Straight-Through Invoice Processing (Only 24% of Businesses Achieve This)
Increased PO to Invoice Connection Capabilities
The Need to Develop Intelligent Analytics
Challenges Facing Manual and Digital AP Processors
Current Best-in-Class AP Industry Benchmarks
And more!

To learn about the exciting changes taking place in accounts payable, and to see what Ardent Partners is forecasting, download the report.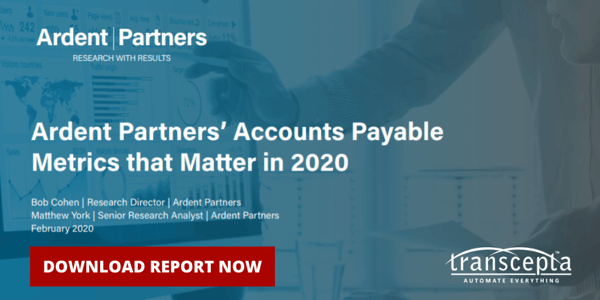 Register for our Feb-19-2020 Webinar at 2pm EST and hear Ardent Partners and Transcepta present the AP Metrics that Matter data with key insights as to how your organization can achieve straight-through AP invoice processing.