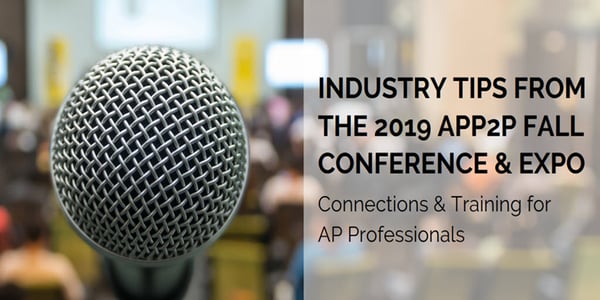 Transcepta attended the APP2P Fall Conference & Expo last week that saw hundreds of AP professionals sharing peer-to-peer tips and best practices in AP and procure-to-pay (P2P). To learn more about this incredibly educational and professionally supportive biannual event, please read on.
The IOFM (Institute of Finance Management) has been hosting the APP2P events for 20 years. Participants primarily represent the financial services, education, manufacturing, retail, healthcare, and technology industries. The presentations, sessions, and expo are all high-level learning opportunities for accounts payable and procure-to-pay specialists.
Why Attend IOFM?
The IOFM attracts end-users who are looking for AP solutions to specific issues, are seeking advice on how to communicate solutions to corporate management, and are studying the latest in industry regulations.
This year's fall event included sessions on:
IRS Regulations and CPRS certification

Accounts payable and pr

ocure-to-pay certifications

1099 & 1042-S tax and reporting regulations

Leadership - with a focus on building efficient and robust teams

Forecasts into P2P automation tools

Spend management & f

raud identification tips

Complex invoice management and technology tools

The event also included many peer-to-peer networking opportunities. We particularly value how events like these bring together a large group of professionals who are all seeking to drive efficiency within their respective organizations. Bringing professionals together allows for collaboration and brainstorming among peers/colleagues, resulting in better and more innovative ideas and solutions.
Typical Issues Facing Accounts Payable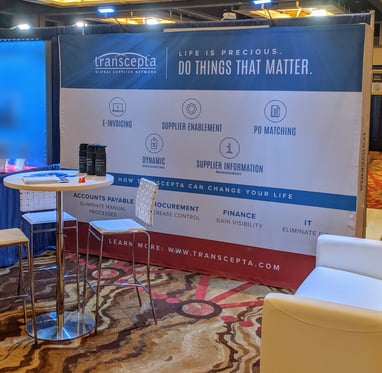 We talked with many AP professionals at our IOFM booth over the four days.
The common AP pain points expressed to us were:
AP departments are still relying on manual invoicing processes, which require extensive man-hours and have inherent high data error rates (as with OCR technology - see our post Why OCR Is Not E-Invoicing)



There are serious invoicing workflow issues

AP departments are not only interested in automation but want improvements in the invoice approval process


There are centralization issues

Invoices are coming into multiple departments, often nationally, which delays payments, incurs late fees, involves more man-hours across the company than necessary, and represents general disorganization

At our booth, we discussed these challenges facing AP teams and how Transcepta's solutions automate systems, improve AP workflows, and help both enterprise and medium-sized businesses centralize accounts payable and achieve straight-through AP invoice processing.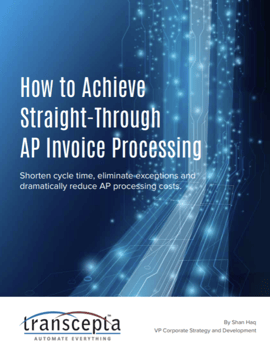 We have put together a white paper outlining what straight-through AP invoice processing is and how it can be achieved. For more information, please download our white paper below.


Related Articles