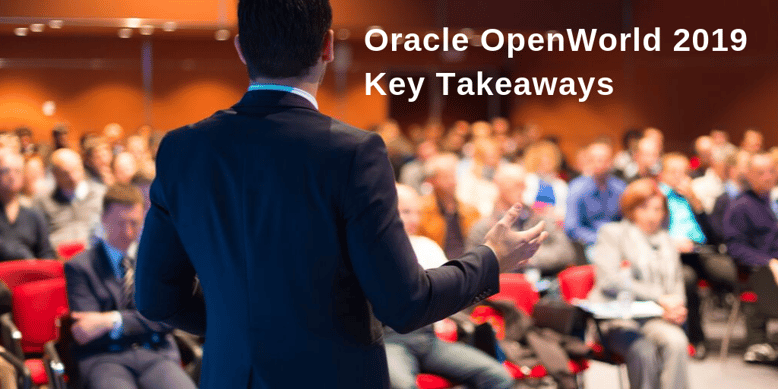 Oracle wrapped up their Oracle OpenWorld 2019 event this month, with several key product announcements and features unveiled. As an Oracle procure-to-pay strategic partner, Transcepta has worked with Oracle's AP and Cloud solutions deeply for the past nine years and finds tremendous value in Oracle's OpenWorld conferences.
Of great interest to Transcepta, Oracle is investing significant resources in redoing their UI (user experience), from dynamic new features to a color scheme change. Oracle representatives spoke highly of the changes, as did the presenters in conference sessions. Oracle's Senior Vice President of User Experience, Hillel Cooperman can be seen here presenting an overview of the changes.
Key Takeaways from Oracle OpenWorld
Oracle Integration Connection/Cloud: Oracle's Integrated Cloud is a module that provides an abstracted API and Exchange tools on top of Oracle Cloud Financials and EBS. The goal of the tool is to orchestrate business processes that need 3rd party services along with standard Financial processes.


Oracle IoT: Oracle will be pushing IoT as other external data feeds for core Oracle functions, triggers, and workflows.


Oracle ERP Cloud: Oracle has been putting a heavy focus on Oracle ERP Cloud. Customers at the conference were noting quick implementation times versus on-premise solutions. Oracle also has chatbot in beta testing for users to interact with the ERP Cloud that will allow for verbal interaction to the system. Verbal commands coupled with machine learning will enable the system to evolve for all users.


Oracle Cloud Marketplace: Oracle Cloud Marketplace, which came out three years ago, is really taking off. Oracle announced new vendor stores and active plugins for the solution.


NetSuite vs Oracle Cloud market defined: Oracle's NetSuite was noted as the solution for customers with <$500M in revenue. Oracle Financial Cloud is intended for customers with >$500M.



Other Financials Cloud Features discussed:




Each Oracle Financials Cloud customer has their own virtual machines in the Oracle Cloud. It's not multi-tenant. Oracle says there are three reasons for this 1) customers want to control their version upgrades 2) security 3) performance.
Oracle Financials Cloud also has a feature called Oracle Cloud Console. This is a feature within the portal that allows tightly integrated modules to be activated by the customer.


Transcepta is very excited by how much Oracle's Cloud ERP solution is growing with customers. Transcepta is extremely capable in the ERP Cloud as their solutions are pre-integrated.
For more information about the tight integration between Transcepta and Oracle Financials Cloud, read here.