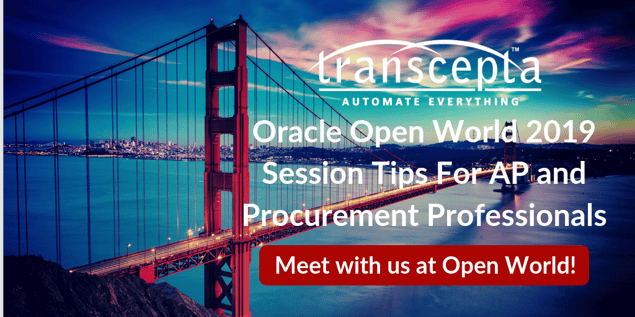 Oracle Open World, happening September 16-19 2019 in San Francisco, can sure feel overwhelming at times. With over 2,000 sessions, 250 exhibitors, and speakers from more than 90 countries, it is hard to know what to pick. We wanted to ensure you have information about the following critical AP and Procurement focused sessions with Mark Peachey, Senior Director, Product Management & Strategy with Oracle.
Monday, Sep 16, 2019
Mark Peachey and Paulo Back: Oracle E-Business Suite Advanced Procurement: Strategy and Updates - Mon. 12:15 pm in Rm2022C Moscone West
Wednesday, Sep 18, 2019
Mark Peachey: E-Business Suite: Managing the Relationship Lifecycle for Suppliers - Wed. 3:45 pm in Rm2024B Moscone West

Thursday, Sep 19, 2019
Mark Peachey: E-Business Suite: Spend Classification, the Keystone to Better Spend Management - Thu. 2:15 pm in Rm2011A Moscone West
Mark Peachey also has a Theater session which is currently called "Oracle SCM Cloud: Globalization Solutions" but will be renamed "Introducing the new Oracle Business Network for Trading Partner connectivity" - Thu. 11:45 am in the Cloud Applications Theater Moscone West (Level 2)

We'll be attending these presentations as well. Look for Kelly McKenzie, our Regional Sales Director, who is happy to speak with you about how Transcepta enables Oracle customers to achieve 100% straight-through AP processing. See you in San Francisco! Meet with us at Oracle Open World!