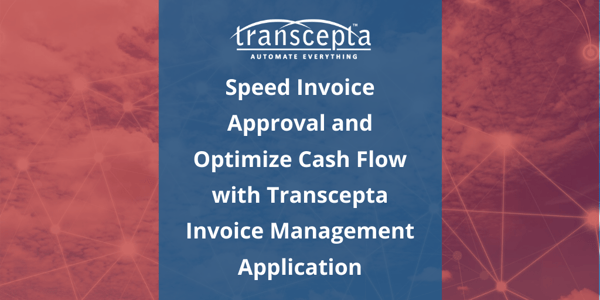 Earlier this month, we announced some significant platform enhancements that aim to help AP and Procurement teams operate more efficiently. One of the improvements that our customers are particularly excited about is Transcepta Invoice Management Application (IMA). This intelligent workflow solution smooths non-PO invoice routing, General Ledger (GL) coding, and approval. It also automates the resolution of PO-match exceptions, making it an essential tool for reaching the goal of 100% straight-through invoice processing.
Straight-through processing can only be achieved if all invoices are PO-based. Without a PO, invoices automatically require human interaction because non-PO invoices must be coded and approved. For some companies, moving to PO-based invoices is a simple switch, but for others, it is a gradual process that happens over months or years. To help our clients who are in the midst of the transition, who have both PO-based, and non-PO-based invoices, we built Transcepta IMA.
Create Invoice Workflows Custom-Tailored to Your Business
Instead of manually coding, routing, and approving non-PO invoices, Transcepta IMA enables you to set up smart workflows that route invoices to an intuitive interface your team can use to quickly make necessary adjustments. When modifications are complete, Transcepta IMA sends the invoice for approval based on your organizational structure, budget authority, and predefined approval limits. Workflows are 100% custom-tailored to your business and can be easily edited as your business grows and changes. Not only will this help you increase efficiency, but it will also strengthen relationships with suppliers by removing unnecessary communication and burdensome requests.
Easily Assign GL Codes to Non-PO Invoices
We hear from our clients that one of the most time-consuming aspects of their day-to-day jobs is manually assigning GL codes. Usually, this is done by pouring over spreadsheets to find the correct code, then manually typing it into the system. Transcepta IMA solves this problem.
When non-PO invoices are received, Transcepta IMA automatically routes them to the appropriate team member who can then use the built-in editor to add GL codes from a pre-populated list. Codes can be added to any line item, and line items can be easily split across codes by department, dollar amount, or percentage. Transcepta IMA can also automatically add frequently used GL codes so that many invoices can arrive pre-coded.
Quickly Make Changes Using an Intuitive Editor
After listening to customer feedback about the most significant pain points associated with manual GL coding, we built an intuitive editor to simplify the process. In addition to returning invoices to a supplier for edits when appropriate, your team can also make edits, that would have taken days or weeks, in minutes. Invoices that need approval or editing are grouped for easy access, individual line items can be quickly edited or split, and GL codes can be assigned with a single click. Transcepta IMA removes the headache of lengthy email chains and unnecessary phone calls, and speeds processing time, so you can focus your energy on other important tasks.
Capitalize on Early Pay Discounts
Capitalizing on early-pay discounts requires short invoice processing cycles. Without the ability to straight-through process invoices, payment cycles can take weeks, which can hurt supplier relationships, destabilize the supply chain, and cost your business money. Transcepta enables a digital connection with suppliers to the Transcepta Supplier Network, which optimizes cash flow and shortens invoice processing cycles. Not only does this help you control payment times, it strengthens supplier relationships and unlocks discounts that have a direct impact on the bottom line.
Maintain An Audit Trail
Transcepta IMA also records every step in the approval process and automatically creates an audit trail that can be used to verify the validity of your transactions. You can also view the integrated change-log to get a detailed view of updates to ensure that invoices are being routed correctly, and that your department is operating at peak efficiency.
Improve Efficiency and Speed Invoice Processing with Transcepta Invoice Management Application
If you're tired of manually coding and routing invoices, Transcepta IMA can help. Transcepta's intuitive editor and customizable workflows will help you save time, reduce costs, and achieve straight-through invoice processing. If you would like to learn more about Transcepta IMA, schedule a demo today!