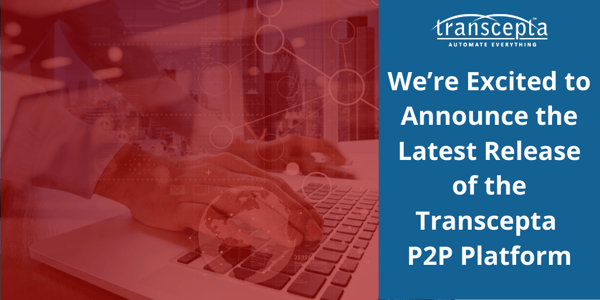 The Transcepta Platform is an intelligent cloud-based Procure-to-Pay (P2P) solution that automates Accounts Payable (AP) and Procurement processes and provides unprecedented connectivity and visibility into your supply chain. This latest release includes new investments to help customers gather actionable data on their P2P operations, and better communicate and collaborate with their suppliers. In this post, we detail the significant enhancements to platform functionality that aim to help AP and Procurement teams operate more efficiently.
Predictive Analytics Powered by AI and Machine-Learning
Transcepta has increased its investment in artificial intelligence and machine-learning, expanding platform capabilities to eliminate invoice exceptions and improve on what is already the industry's highest level of straight-through invoice processing. New predictive analytics capabilities enable customers to surface potential supply chain disruptions before they occur, and make better, more informed decisions.
eProcurement Enhancements for Oracle Customers
Transcepta is the only P2P platform with an Oracle Validated Integration. "Oracle Validated" means Transcepta's solution has been rigorously vetted to ensure every aspect of the technology meets Oracle's high standard of excellence. It also eliminates the substantial costs, increased risk, and technical complexity that can result from untested partners. This platform release adds additional features to remove the complexity of catalog management and punchout connectivity for Oracle Cloud, E-Business Suite, and PeopleSoft.
Enhanced Supply Chain Connectivity
Transcepta is further simplifying supply chain connectivity and communication between customers and their suppliers. Customers can easily transform any document such as POs, POAs, Invoices, ASNs, PO Changes, Catalogs, and more, to an EDI acceptable format. This capability enables your business to scale EDI capabilities to all suppliers, regardless of technology restrictions.
Seamless Supplier Onboarding and Enablement
The new release also introduces onboarding automation, which advances Transcepta's unique ability to seamlessly connect suppliers. Specifically, the release introduces functionality to connect any supplier to the Transcepta Supplier Network instantly and without registration.
Intuitive Supplier Information Management
Transcepta Supplier Information Management (SIM) is making it easier to keep track of supplier documentation by creating a complete view of your supplier data. Suppliers can easily upload important data to the Transcepta Supplier Portal so you can access current contact information, W9s, transaction history, and banking details quickly and efficiently. Your team can also send automated reminders to suppliers that have not uploaded the required materials and alert suppliers when their documents are about to expire.
Custom Workflows to Speed GL Coding and Approvals
Finally, the introduction of the Transcepta Invoice Management Application (IMA) saves time and effort by automating the process of approving non-PO invoices for payment. Instead of manually coding, routing, and approving non-PO invoices, leverage smart workflows that route them to an intuitive interface you can use to make necessary adjustments quickly. Much of the coding can be auto-populated by the Transcepta Platform before you receive the invoice; then, Transcepta IMA automatically routes the invoice for approval based on your specifications.
Achieve eProcurement and Accounts Payable Automation with the Transcepta P2P Platform
If you would like to learn more about how the Transcepta P2P platform can help Procurement and AP teams automate P2P operations, get rich, in-depth supply chain visibility, and build a sustainable competitive advantage, please contact us directly to schedule a demo.