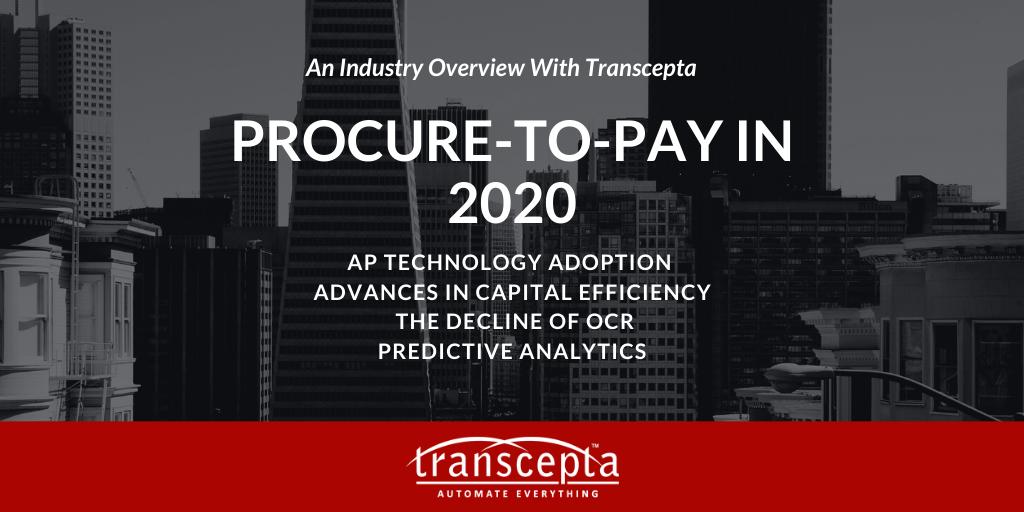 The software platforms and solutions in the Procure-to-Pay space are evolving and being adopted at an accelerated rate, particularly by middle-market business. We look at this and outline other P2P trends we see maturing in 2020.
Adoption of AP Technology
Enterprise-level business has already made significant inroads into AP automation, machine learning, and AI technology that drastically cuts down on the cost and labor required to process invoices. However, middle-market business has only recently been delving into P2P solutions.
Procure-to-Pay platforms have become more accessible to the middle-market. Their technology, including smart systems backed by AI, replace time and labor-intensive tasks and deliver accurate, predictive data that help users make better decisions. While any industry can benefit from automation of procurement and AP, we've seen significant adoption in the manufacturing, distribution, and retail sectors in 2019 and expect this momentum to continue this year.

Advances in Capital Efficiencies
With our AP customers, we see a renewed focus on capital efficiency, which is best achieved through automation. Particularly in our current tight labor market climate, businesses are going after tools that help them maximize their staff. We see a strong labor capital efficiency trend in 2020, and we are situated very well to help customers thrive in this climate.
The Decline of OCR
Another trend we see is that both enterprise and middle-market business are moving away from OCR invoice capture. The usage is declining. OCR has well-known readability issues and performance inconsistencies. AP departments tire of cleaning up data that does not come through accurately. And for businesses that have time-sensitive requirements, these kinds of holds ups in paying vendors and suppliers are not acceptable.
You can read more about OCR in our post Why OCR is not E-invoicing or in our whitepaper Is PDF Invoicing Really E-invoicing?
Predictive Analytics for Proactive Action
Procure-to-Pay software is not just about getting visibility into data anymore. Customers are now looking for predictive analytics that can alert them to potential issues so they can troubleshoot and prevent problems.
Such powerful insights allow a business to:
Eliminate supply chain disruptions
Make more informed supplier decisions
Better forecast cash flow
Optimize invoice processing and payment cycle times
More information on the types of analytical data that can be captured through Transcepta's tools can be seen here.
In 2020 we will continue to work with both enterprise and mid-market customers in our shared goals of enabling businesses to achieve 100% straight-through invoice processing and make more informed, better decisions.
If you are looking to reduce your invoice exceptions, want seamless connection to your suppliers, and require Procure-to-Pay automation tools, read our whitepaper on How to Achieve Straight-Through AP Invoice Processing, which includes a checklist on what to obtain to achieve straight-through AP invoice processing.

Related White Papers
White Paper: Top Trends in Procure-to-Pay
Is PDF Invoicing Really E-Invoicing?
White Paper: Supplier Networks – The Backbone of Accounts Payable Automation