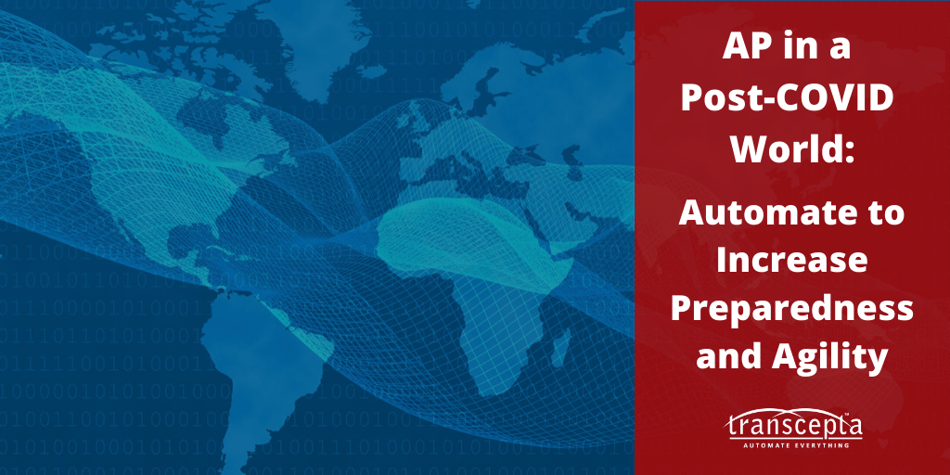 The rapid onset of COVID-19 forced many businesses to take a hard look at their AP processes. Few realized how unprepared they were for such an event until paper invoices started arriving at empty office buildings, and AP teams had no way to process them or send payment. This left many AP teams asking themselves: "how do we process invoices if we're not there to receive them?" and "how do we prevent potential future shutdowns from disrupting our supply chain?"
For years, many businesses have put off improvements to AP processes. Technology that enables AP automation has been around for over a decade but unfortunately, only companies interested in optimization have embraced it. After all, if it's not broken, don't fix it, right? Unfortunately, this mentality has finally caught up with us, forcing AP teams into action to figure out the best way to safeguard their organizations against future shifts in the status quo.
This begs the question, what will AP look like after the dust of COVID-19 settles? While no one can say for sure, what has become clear is that there is an acute need to bring AP into the 21st century, and fast. AP may have been overlooked in the past, but it will be top of mind for any business with a mountain of unopened, late invoices when employees eventually return to work. In this post, we examine how AP automation will help your business to not only prepare for unforeseen disruptions, but also save money and decrease payment times.
Shift from Paper to 100% Digital
When offices are closed and employees are working remotely, paper quickly becomes a huge liability. Paper invoices sent to AP departments are left unopened which slows supplier payments, and in turn hurts relationships. Suppliers may also cut shipments which could have detrimental effects on the supply chain, especially for businesses that operate with small amounts of inventory.
To remove paper from the equation, suppliers must be connected digitally. Digital connection does not necessarily mean EDI, which for many AP professionals evokes flashbacks of complex, lengthy, custom integrations. Modern accounts payable automation companies manage supplier connection from start to finish, ensuring that every supplier is able to send invoices in a truly digital format, without the headache of integration.
Invoices received in a digital format don't need to be entered into an AP or ERP system. They also don't need to be scanned using OCR imaging, which frequently results in errors. Instead, the invoice is end-to-end digital which guarantees both speed and accuracy.
Process Invoices from Anywhere
One benefit of accounts payable automation, especially during an event such as COVID-19, is the ability for your AP team to seamlessly shift to remote work. The closure of physical offices for months at a time has forced many businesses into triage mode, effectively "winging it" as they figure out the best way to continue operations. With employees working from home, how do you process invoices?
If invoices instead arrive from suppliers digitally, AP professionals can oversee processing from anywhere. Invoice processing times will also be drastically reduced, usually between 90-95%, because the vast majority won't require any human intervention. The ability to work remotely will also safeguard business operations and lay the groundwork for a more flexible and efficient work environment.
Eliminate Invoice Exceptions, Automate Resolution
According to Ardent Partners' 2020 Accounts Payable Metrics that Matter Report, 76% of businesses believe that smarter systems are the key to long-term success. COVID-19 has highlighted the need for smarter systems that can not only process incoming invoices, but route them to the appropriate parties for approval. Automatic routing removes the need for lengthy email chains or phone calls to resolve discrepancies, which is particularly helpful if offices are closed and employees are working from home.
Procure-to-Pay automation platforms like Transcepta use machine learning and artificial intelligence to identify and resolve invoice exceptions automatically. Instead of your ERP spitting out an error message, which must be deciphered by a human, Transcepta will proactively reroute the invoice to the appropriate party, whether that is back to the supplier for more information, or to a manager or supervisor for a sign-off.
Preparing AP for a Post-COVID World
It can sometimes be difficult to see the silver lining in bad situations, but the silver lining of COVID-19, for AP professionals at least, is that it has shown them exactly where they need to shore up their operations. It has also shined a spotlight on the need for automation, moving the perpetually "back-burner" project to the top of the priority list.
The good news for AP is that automation will have far-reaching effects on the health and profitability of the business, long after life has returned to normal. Not only will the business operate more efficiently, AP professionals can rest easy knowing they are better prepared to meet the challenges that lay ahead. If you would like to learn more about how Transcepta can enable accounts payable automation, click here to request a demo.